Let us be more than just your guide.
Yes, we provide course info for 130 courses and 700+ tourneys, but we also advertise area courses and businesses in our annual magazine, online at www.SiouxLinks.com, and on YouTube. Plus, we can create your scorecards, yardage books, and brochures. Hire us to take photos, videos, and drone videos of your course for promotional purposes, AND we can even create edited videos to give golfers an overview of each hole of the course.
Our Services
Advertising in Golfer's Guide and Online
Now is the time to secure your spot in our latest print edition of Sioux Links, as advertising does fill up each year, and you do not want to miss out. Each May, our 15,000 Sioux Links Golfer's Guides are delivered the first week in May to over 130 golf courses, golf stores, hotels, and rest stops in four states, South Dakota, Minnesota, Iowa, and Nebraska. For advertisers looking for premium ad spots, you will want to lock those in early as they are the first to sell out. Ask about special pricing for cover features. They are great for grabbing attention for events, tournaments, or products. Drop us an email, and we can discuss print and online advertising options with you.
Scorecard Printing and Design
We have partnered with Anderson Brothers Printing to produce scorecards for your course. They already work with many areas courses and have been a trusted printer for our Golfer's Guide since 2019. Email us, and we can create a totally new design or tweak your current design. Once your design is approved, select a quantity, and we will complete your order.
Photo, Video, and Drone Video
Need content to post on social media or your website? We can help and have affordable pricing to meet your needs. Customize a combination of photos, videos, or drones based on your need, plus we can edit it all together for you. Check out our Youtube page to see some of our work.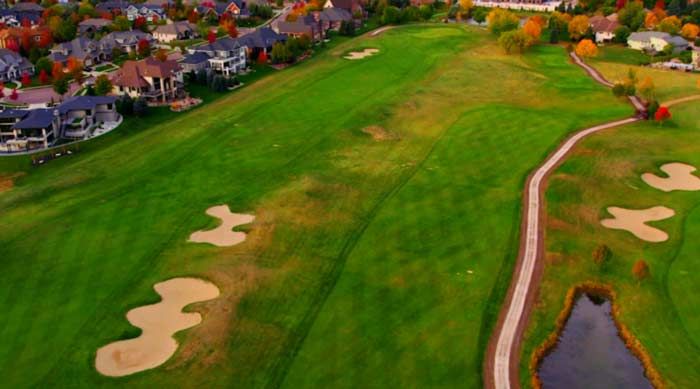 About Us
Sioux Links is an independently owned, annual Golfers Guide published each May and distributed to South Dakota, Minnesota, Iowa, and Nebraska free of charge to golfers who seek course information for the courses they are interested in golfing. We also provide a listing of over 300 tournaments (over 700 online), valuable coupons, a regional map, and stories featuring golf courses, products, and ways to enhance your golf experience. We are dedicated to growing golf in the area by making it accessible to everyone, most importantly, the next generation of young golfers.
What Is Sioux Links Golfers Guide?
Founded in 1997, Sioux Links is the complete resource for over 130 area golf courses in South Dakota, Minnesota, Iowa, and Nebraska. Golfers grab our guide and hold on to it all season as they plan what course they will golf next weekend. The convenient map offers a clear view of nearby courses and how many holes they offer. The coupons contained inside offer discounts on golf simulators, green fees, free cart rentals, and more. The Golfers Guide is the source for all things golf. People have even called it their "golf bible."
Find a Copy
Grab your copy of Sioux Links at any of the 130+ golf course clubhouses in our area. They are also available at over 200 hotels, including rest stops, visitor centers, golf stores, and golf simulators.
Join Us
Let us be more than your guide. We want you to join the conversation with us on Facebook, Twitter, Instagram, TikTok, and YouTube. Tag us in your epic round, awesome drive, or the great time you had with friends. We look forward to watching your success. Watch for hashtag contests this golf season for a chance to win great prizes.

Derek Soukup
Editor, Owner
Derek has been golfing since before he could drive a car using clubs that his father, Gene modified to fit his height. "I remember I had a 5 iron and I'd hit that thing several times all the way down the fairway" he recalls. Then he'd grab the shortened putter to putt on the sand greens that the course in Butte, Nebraska had. Some of his fondest memories growing up are riding in the golf cart learning golf from his Dad and Mom, Becky. It was a family affair for sure. He even golfed league with his Grandpa, Merv when he was in high school. These days, when he is not working on Sioux Links, he golfs with his friends and son, Logan and daughter Ashley. "It's been great teaching them how to play this game that I grew up playing. It is something they will be able to do long into their lives."
Derek has worked with Sioux Links since 2003. Before taking the reins as Editor, he served as our Creative Director creating advertisements, doing page layout, and providing creative leadership. He now has his hands in every part of Sioux Links from ad sales, featured story writing, social media, and of course graphic design.
Write for us/Contribute
Do you have a passion for golf and like to write? Or maybe you just have a story idea that would be of interest to Sioux Links readers? We want to hear from you. We are looking for freelance story writers who can contribute to course stories, featured products, equipment, editorials, instruction, and culture. Send us an email on the type of writing you are interested in and two samples of your work. Join the team and be a contributor to the area's only golf-focused media company, Sioux Links.